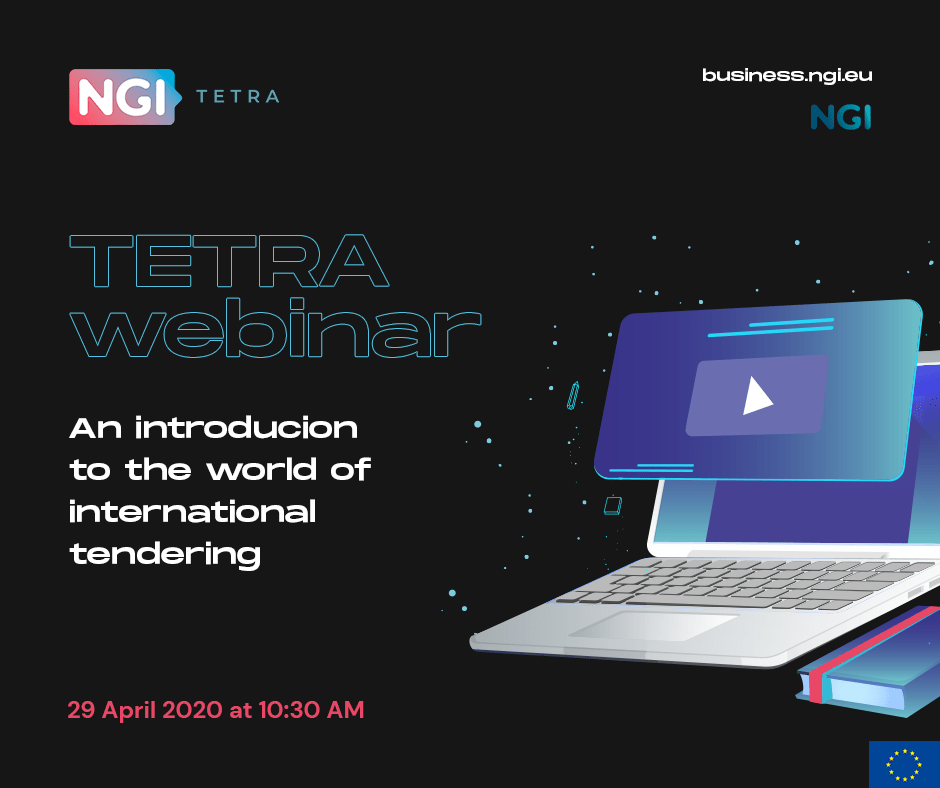 Thanks to TETRA project, selected NGI beneficiaries have access to a service that combines a pan-European network of consultancy firms specialised in public procurement with the leading public tender search engine for SMEs. The service helps SMEs identify possible partners and recommends expert consultancies to help write bids and translate materials into the appropriate language.
In short, TETRA may help you win new business abroad – and there is a lot of new business just waiting to be won.
So, join this fascinating live webinar and find out how TETRA can help you open that door of opportunity for your business to be successful in winning international tenders.
For more info: https://business.ngi.eu/news-events/webinars/webinar-1-access-to-international-public-contracts/
Registration at: https://meetinglab.zoho.eu/meeting/register?sessionId=1294137525
AGENDA
Welcome and introduction to TETRA project
Kirsten Virks, Project Coordinator 5 mins
Tendering abroad – a whole world of opportunities
Robert MISKUF, TENDERIO founder and partner from PEDAL Consulting 10 mins
Doing business abroad – setting the scene
Lucia HEGEDUSOVA, PEDAL Consulting 10 mins
How TETRA can help you win business abroad and how to get involved
Robert MISKUF, TENDERIO founder and partner from PEDAL Consulting 10 mins
Q&A session. Live questions to the speakers from delegates 10 mins
Wrap-up and details of future webinars in the series
Kirsten Virks, Project Coordinator 5 mins