In this page you can find the most relevant events to Fed4FIRE+ in Europe and worldwide.
For more events, please visit the NGI events page.
Apr
24
Wed
FEC5 – The 5th Fed4FIRE+ Engineering Conference
BOOK YOUR TICKET NOW!
The fifth Fed4FIRE+ Engineering Conference (FEC) will be held on 24-25 April 2019 in Copenhagen, Denmark with a special focus on "Advanced Networking" in addition to the technical sessions, tutorials, demo's and Open Calls information.
You can find the updated agenda at: fec5.fed4fire.eu/agenda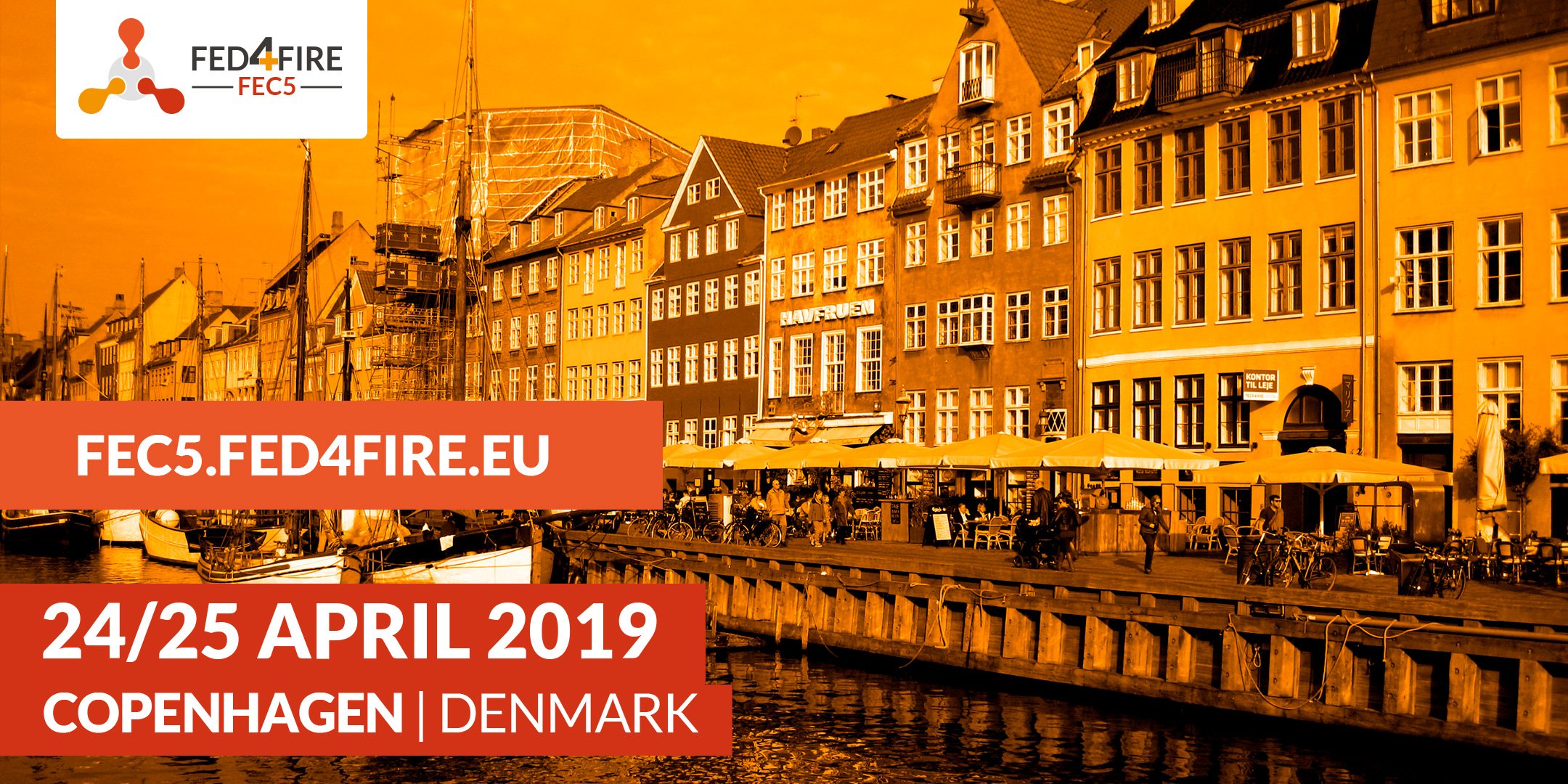 The Fed4FIRE+ project offers the largest federation worldwide of Next Generation Internet (NGI) testbeds, which provide open, accessible and reliable facilities supporting a wide variety of different research and innovation communities and initiatives in Europe. Fed4FIRE+ testbed offer:
Simple, efficient, and cost effective experimental processes
Increased trustworthiness of facilities
Sustainability of the experimental infrastructures
Easy access to resources for SMEs, industry and academia
The Fed4FIRE+ community is at work running and continuously improving the largest federation of facilities, supporting and offering experimental testbeds based on technologies ranging from wireless, wired, cloud services and open flow, and making them accessible through common frameworks. Besides, available tools for infrastructure developers open new possibilities, supporting a broad range of experimenter communities covering a wide variety of Internet infrastructures, services and applications, allowing them to focus on their core testbed activities.
Through the federation of these infrastructures – a single place where to find and execute technical tests – innovative experiments become possible; a novelty that breaks the boundaries of these domains. The federator also builds on Fed4FIRE's existing community of experimenters, testbeds and tool developers and bring them together regularly in Fed4FIRE+ Engineering Conferences (FEC) to have maximal interaction between the different stakeholders involved.
The Fed4FIRE+ Engineering Conferences are 3-day events (organised twice a year) with a mix of plenary and parallel sessions. The sessions consist out of talks, tutorials and technical discussions and there is also a demo fair session with experiments which were set up and ran on the federated testsbeds, a large part of which also received financial support. This is a great opportunity for researchers and developers, to exchange experiences and inspire each other's.
---
If you are interested to receive more information about the event, please, drop us an email at: .
Do not forget to follow us on twitter @Fed4FIRE and please spread the word with our hashtag #FEC5 #f4fFEC.
Do not forget also to subscribe to our newsletter!
---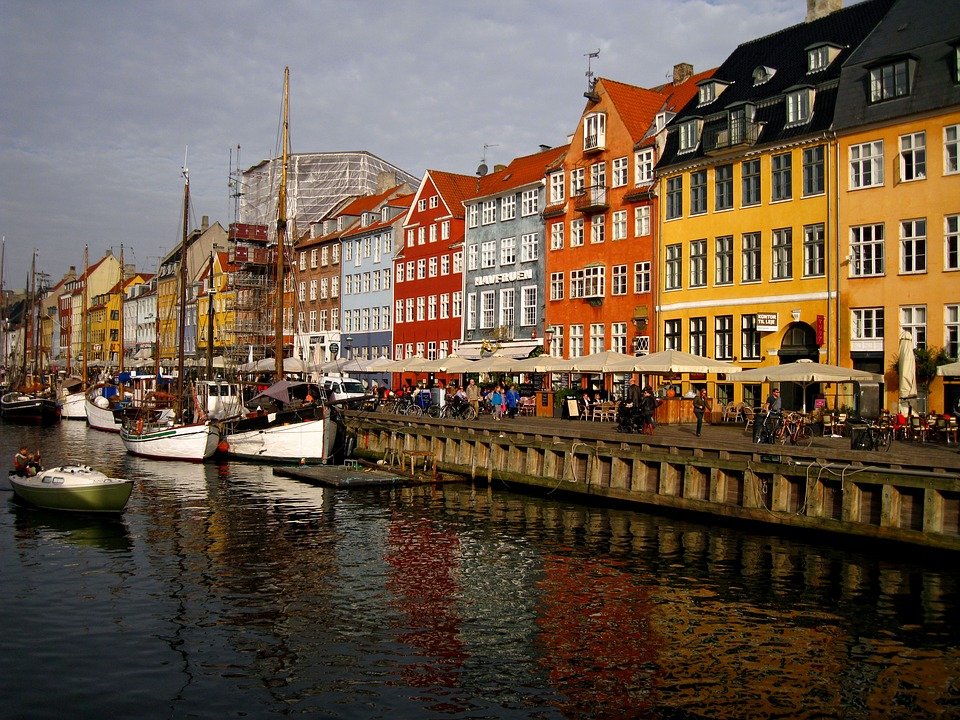 Apr
29
Mon
IEEE International Conference on Computer Communications

@ Paris

IEEE INFOCOM is a top ranked conference on networking in the research community. It is a major conference venue for researchers to present and exchange significant and innovative contributions and ideas in the field of networking and closely related areas. IEEE INFOCOM covers both theoretical and systems research. For INFOCOM 2019, the conference includes a main technical program, a number of workshops, a keynote speech, panels, a student poster session, and demo/poster sessions.
Program and other details are available here: https://infocom2019.ieee-infocom.org
Jun
18
Tue
EuCNC 2019

@ Valencia Congress Centre (VCC)
EuCNC 2019 is the 28th edition of a successful series of a conference in the field of telecommunications, sponsored by the IEEE Communications Society and the European Association for Signal Processing, and supported by the European Commission. This conference is one of the most prominent communications and networking conferences in Europe, which efficiently brings together cutting-edge research and world-renown industries and businesses. EuCNC attracts more than 600 delegates each year and an exhibition space of more than 1,500 m2. The conference focuses on various aspects of 5G communications systems and networks, including cloud and virtualisation solutions, management technologies, and vertical application areas. It targets to bring together researchers from all over the world to present the latest research results, and it is one of the main venues for demonstrating the results of research projects, especially from successive European R&D programmes co-financed by the European Commission.
EuCNC 2019 will be co-located with the Global 5G Event, which brings together the world 5G industrial associations: 5G-IA, IMT-2020, 5G-Forum, 5G-MF, 5G-Brasil and 5G-Americas.
The EuCNC 2019 Conference will be held at the Valencia Congress Centre (VCC), ideally located on the major access route into the city from the north east, only 5 km from the international airport Valencia-Manises. A taxi will take you there in 7-10 minutes. Also, the city centre is only some 10 minutes away and can be easily accessed by metro or bus.
The conference has a not for profit organisation, hence, registration fees are as low as possible, and all surplus will be made available in grants. The conference will be indexed in the major databases. Best Paper Awards will be granted. Accepted and presented papers will be published in the Conference Proceedings and submitted to IEEE Xplore and other Abstracting and Indexing (A&I) databases.
EUCNC 2019 – Key dates:
08 Feb 2019 – Deadline for submission of papers for regular oral sessions
08 Feb 2019 – Deadline for submission of proposals for workshops, special sessions, and tutorials
22 Mar 2019 – Notification of acceptance of workshops, special sessions, and tutorials
15 Mar 2019 – Deadline for submission of extended abstracts for posters
12 Apr 2019 – Deadline for submission of proposals for exhibitions
15 Apr. 2019 – Notification of acceptance of papers and extended abstracts
26 Apr 2019 – Deadline for final papers for all sessions and workshops
26 Apr 2019 – Deadline for authors registration
10 May 2019 – Draft program available