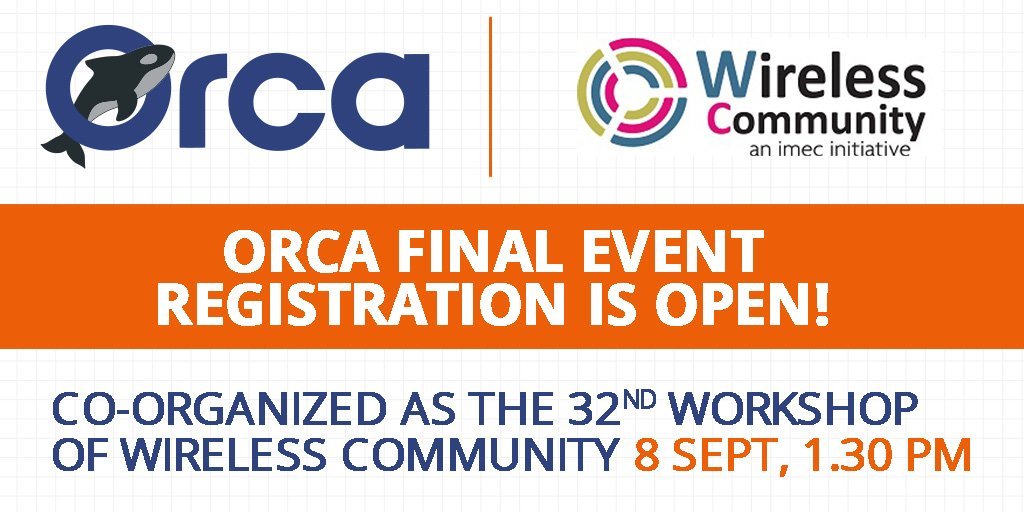 ORCA's Final Assessment Workshop "Experimentation Facilities for Wireless Connectivity in Industrial IoT Applications" will be held as an online event, due to the current COVID-19 situation, on 8th September 2020, 1:30PM CEST from Ghent, Belgium. You can register now here.
As part of the program, ORCA partners will hold live presentations, supported by videos, showcasing the latest results of ORCA's research and experimentation activities:
Showcase 1: SDR based mmWave backbone for video inspection on the assembly line
Showcase 2: SDR based IoT gateway for context-aware and low latency robotic ARM control
Showcase 3 Network slicing upon core/transport/wireless network in a nutshell
Showcase 4 MultiRAT AGV navigation in ORCA factory warehouse
ORCA final event registration is open!
This event is co-organized as the 32nd workshop of Wireless Community, featuring topic "Experimentation Facilities for Wireless Connectivity in Industrial IoT Applications"
Interested in the program but do not have budget to pay registration? contact ingrid.moerman@imec.be for an "ORCA wild card code". The event will be as a virtual edition/webinar on Tuesday 8 September, 1.30 PM